List of products by brand Tenuta di Arceno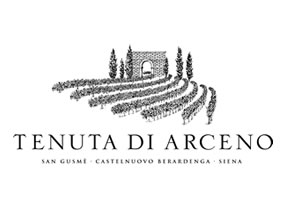 Tenuta Di Arceno stretches for about 1,000 hectares among the chianti classico hills, in the municipality of Castelnuovo Berardenga, on the outskirts of Siena. Its origins date back to the Etruscan period. The estate was first owned by the Sienese Taja family and then passed to the Piccolomini, a historic Tuscan family influential in Siena since the 11th century. In 1994 it was purchased by Jess Jackson and Barbara Banke.
Of clear Tuscan lineage, Tenuta Di Arceno have a level of richness, concentration and character comparable to that of the best wines in the world. The 90 hectares of vineyard are located on rocky hills at an altitude between 300 and 560 meters above sea .m. The climate is temperate and the composition of the soil, consisting of clay, granite and basalt, facilitates drainage as well as reflecting the warmth of the sun to the plant. The company has always cultivated the most famous native vine in Toscana, Sangiovese, but has also experimented with the cultivation of Merlot, Cabernet Franc, Cabernet Sauvignon and Petit Verdot.
The wine team, composed lawrence cronin and pierre seillan. Lawrence, has brought great sensitivity in the production of Chianti Classico wines, finding the maximum expression in the Gran Selezione Strada al Sasso, Sangiovese in purity. Bordeaux-cut wines, Arcanum, Valadorna and Fauno, where Cabernet Franc and Merlot predomi dominate, take over the imprint of Pierre Seillan, an internationally renowned winemaker who has gained great recognition for his work in Bordeaux and California. To Arceno.