List of products by brand Er Boquerón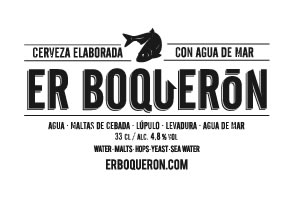 It comes from Valencia, Spain and smells mediterranean beer Er Boquerón, craft beer made from seawater.
Er Boquerón is a fresh, clear and easy to drink beer, not filtered or pasteurized, double fermentation. In compliance with the German purity law of 1516, there are four ingredients of this artesanal cerveza: water, barley malt, yeast and hops.
The seawater used is pure, obtained from the cleanest areas and with the best marine flora in the Mediterranean. Its absolute quality is fully guaranteed by continuous analysis of the extraction point and exhaustive filtering of water.
This beer, with pleasant aromas of malt, freshly baked biscuit, saffron and iodized aromas, is ideal for a refreshing aperitif, as an accompaniment to the meal and for pleasant moments of relaxation: with Er Boquerón the Mediterranean is within reach ... to sip!
Er Boquerón beer was awarded in 2014 in Brussels with two ITQi (International Taste & Quality Institute) gold stars for outstanding flavor and absolute quality by the world's most demanding jury, as many as 120 chefs and sommeliers from Europe's most important culinary associations.