List of products by brand Franck Bonville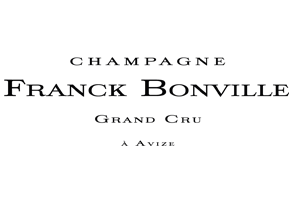 For four generations the Bonville family has specialized in Blanc de Blancs Grand Cru champagne in Avize, a prestigious terroir of the Côte des Blancs. Chardonnay is the only GRAPE VARIETY found in Champagne and in the Côte des Blancs this variety adapts very well to the chalcious soles producing the best expression of this terroir. The main feature of Chardonnay is the unparalleled finesse and elegance: when young he often expresses notes of white flowers and fruits, while when he evolves he has buttery notes, brioche or almond in the most mature wines.
The company Franck Bonville owns 15 hectares of vineyards divided into 77 plots within three classified Grand Crus: Avize, Oger and Le Mesnil sur Oger. The proximity between the particles and the meticulous work of the company have led to an intrinsic quality of the bunches that are harvested by hand only when and if perfectly ripe. A horizontal press is used to act more gently on the bunches and extract the juice, both alcoholic fermentation and malolactic fermentation are inoculated to control the aromatic development of the wines. Every year 50 barriques are purchased to vinify Les Belles Voger and store the reserve wines to produce the liqueur de tirage.
The underground tunnels were built in the 19th century dug in pure chalk; these wineries are a magical place and I keep temperature and humidity constant throughout the year. In Franck Bonville it is believed that a minimum of aging of two and a half years is necessary to appreciate the quality of the Brut Grand Cru Blanc de Blancs while an aging of at least 6 years is necessary for the Cuvée Prestige and vintage Cuvée.