List of products by brand Tenuta San Filippo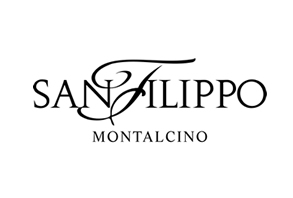 The San Filippo company is located in a beautiful area east of Montalcino, where the longest and most elegant wines of the entire Brunello area are produced. It has an extension of about 22 hectares, of which 11 are vineyards, where mainly Sangiovese, Merlot and Sirah are cultivated, and about one and a half hectares of olive grove.
Founded in 1972 (the first bottle of Brunello is from 1977), the company was purchased by Roberto Giannelli, who renovated and renovated all the buildings and outdoor areas of the property and wine resort. At the same time, Roberto has also reorganized the production of wines, drawing on the experience of wine makers and winemaking technicians of his trust.
The cellar, modern and functional, extends over a covered area of over 1,000 square meters and is organized in a space for winemaking, a room for aging, a department for bottling, packaging and storage of wines. The aging cellar is made in the funds of the ancient farmhouse.