List of products by brand Crucifix Père et Fils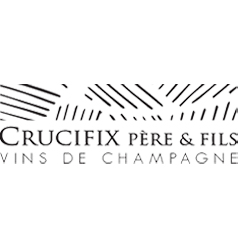 Discover Maison Crucifix Père et Fils and its fine Champagnes in our online store
The Montagne De Reims is a forested promontory with a height of no more than 300 m. It stretches between the cities of Reims and Epernay and lies between the Marne and Vesle rivers. The terrain in this area is unique and is characterized by the important presence of chalk at depth that acts as a water reservoir. The undisputed king of this area is Pinot Noir.

André Gabriel already in the 1940s was one of the few winemakers who realized the great potential of the grapes he grew in this area and decided to establish his own champagne brand. In 1960 André's daughter and son-in-law Pierre Crucifix took over the family business and developed their own label: Champagne Pierre Crucifix.

In 2005, with the fifth generation of winemakers, Sébastien Crucifix renamed the company Crucifix Père & Fils, together with his wife Carole developed his cuvées while maintaining the traditions of his ancestors and cultivating his 5 hectares of Premier Cru without herbicides and insecticides for more than 10 years.