List of products by brand Rapa Giovanni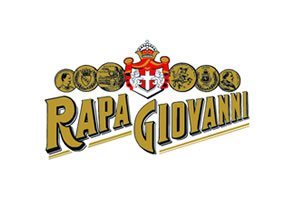 Walser is a bitter alpine herb, born where nature has given man the highest peaks and glaciers in Europe: the Monte Rosa Massif. In the Upper Lys Valley, in the Aosta Valley, the Walser Mountain Community, settled there in 1200, rich in centuries-old traditions, created this precious recipe characterized by natural flavors obtained from alpine digestive herbs, gentle wormwood, relaxing anise, restorative green bitter orange, with aromatics and medicinal products, sage, peppermint and lavender. Giovanni Rapa, founder of the liquor factory of the same name, collected its tradition and began its production at the end of the 1800s. Today the bitter Walser is still produced faithfully following the ancient recipe, with unchanged art and passion.
Rapa Giovanni received numerous awards: he was awarded by the S.A.R. Umberto I and Margherita of Savoy, by Popes Leo XIII and Pius X; obtained a patent from the Duke of Genoa. In Milan, in 1914, he was awarded with the Grand Cross of the "Benemeriti del Lavoro".