List of products by brand Charles Heidsieck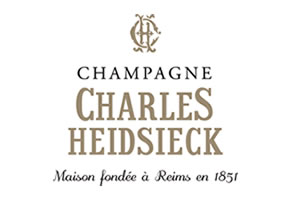 Charles Camille Heidsieck was born in 1822 to a noble family from Westphalia. In 1851, at the age of 29, he founded the Maison Charles Heidsieck based on his far-sighted initiatives and the fertile lands of his brother-in-law, none other than a Henriot. Charles' ambitions resonate in a world in full swing. The 19th century is the age of great discoveries and immediately reveals itself as a visionary, innovative man with great intelligence. He became an ambassador for his own Maison and, consequently, for the whole of France. He travels all the time, driven to an ambitious curiosity and never tired, imbued with an undeniable "savoir-faire" and kind spirit, a real dandy globetrotter.
The Maison de Champagne Charles Heidsieck remains, more than 160 years after its creation, a family reality and maintains the spirit of resourcefulness, courage and pursuit of the founder's excellence. The champagnes Charles Heidsieck enjoy an unmistakable signature. The unique style is characterized by a high percentage of reserve wines that enriches the Maison's cuvée sans année, giving rare and constant balance. Reserve wines represent the richness and uniqueness of Charles Heidsieckchampagnes, but they are also constantly evolving wines, which chef de Caves' mastery assembles in a harmonious composition. The selected grapes give, together with the original Crus, complexity to the finish. Cru vinified for Cru, vine for vine, allow a precise selection of each wine in which one brings its touch of depth, the other its part of softness.
Rich, different, the notes obtained from separate vinifications determine a precision and great refinement in the construction of flavors, gently oscillating between complexity, depth and softness.