List of products by brand Antica Casa Visconti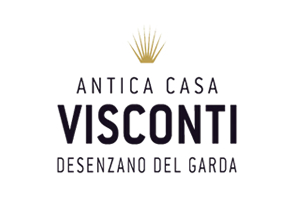 The Visconti family has its roots on Garda about a century ago and has always had a deep connection with this territory, so much so that it was this family that believed in the potential of the Turbiana vine, a native grape present in the area south of Lake Garda, even before Lugana became a designation of origin. The passion and tenacity of the Visconti family allowed the spread of this vine throughout the southern area of Benaco, between Lombardia and Veneto, until it became the most important white grape in our territory and to make Gardesani wines famous nationally and internationally.
The production of Lugana was born and binds inextricably to that of the Visconti family, so much so that even today this name evokes the origin of Lugana. In particular, Lugana Visconti is an element of identification of the city of Desenzano del Garda and is proposed with pride and affection by most of the historic clubs of the city center.
In the early 2000s, the Visconti family, after decades of activity in the wine sector, decided to direct its entrepreneurial activity towards other projects. Their heritage is passed on to another historical family that has always dedicated itself to viticulture, the Formentini family.